View all entries from Espresso English Blog >
July 15, 2012
Viewed 1112 times.
Learn Essential English Grammar – Intermediate Level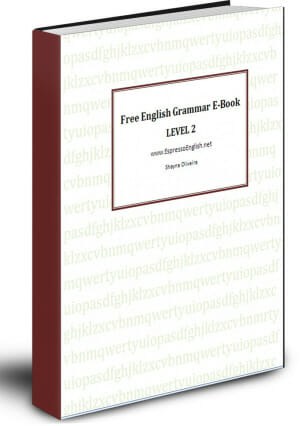 Thanks for downloading the Free English Grammar E-Book Level 2 – I hope it helps you learn English! If you have any questions about the lessons, please e-mail me at help@espressoenglish.net
Please Share This Book!
This book is free, but can I ask you to help me with one thing? Please post a link to the book on Facebook and Twitter to share it with your friends and classmates. Thanks – I really appreciate it!
More entries: 16 Slang Words >> Food & Drink (2), Travel English Speaking Course (1), Free English Grammar E-Book - Level 2, 8 verbs that 80% of English learners confuse (3), English vocab with pictures - 20 words about water (2), 10 phrasal verbs with UP, Business English Dictionary - A (1), What is fluent English?, 36 expressions with GET, Difference between Big, Small, Long, Short, Tall, Huge, and Tiny