View all entries from AL s blog >
June 19, 2009

Looking for some things you never knew about Xinjiang?
Try these:
Xinjiang is the largest province in China, making up 16% of China's land mass.
•Urumqi is known in the Guinness Book of World Records as the most inland city farthest from the sea in the world (nearest major body of water is 2,250 km away).
•Xinjiang boasts the largest glacier in China, the Yinsugaiti Glacier in the Pamirs with a length of over 40km.
•The longest inland river in China, the Tarim River, is located in Xinjiang (2,179 km).
•Here you can find the only beaver natural reserve (Altay Region), swan natural reserve, and camel natural reserve in China.
•The largest mosque in China, the Id Kah mosque, is located in Xinjiang's westermost city, Kashgar.
•Xinjiang's Taklamakan Desert is the largest desert in China and the 15th largest non-polar desert in the world.
•Various areas of Xinjiang are famed as being the hottest place in China (Turpan), the sunniest place in China (Kuche County), or the driest place (Turpan).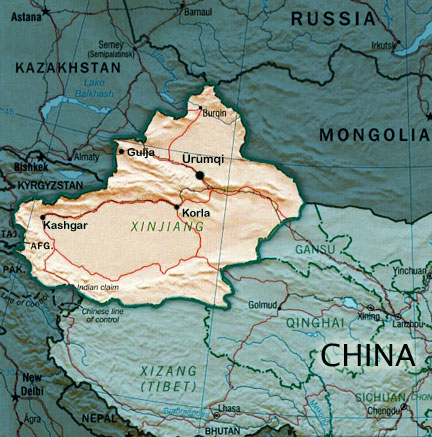 Map of Xinjiang
Location: Xinjiang lies in the north west corner of China, bordering only three of China's provinces (Tibet, Gansu, and Qinghai) while boasting a 5,600 km border line with an impressive 8 different countries (Russia, Kazakhstan, Kyrgyzstan, Tajikistan, Pakistan, Mongolia, India and Afghanistan)
Size: 1,600,000 sq km or roughly 641,000 sq miles
Population: 19,631,100
Climate: Xinjiang receives around 2,500 to 3,000 hours of sunshine each year compared to an average of 150ml of rain (approx. 6 inches) per year.
Silk Road
Capital: Urumqi
The Tarim River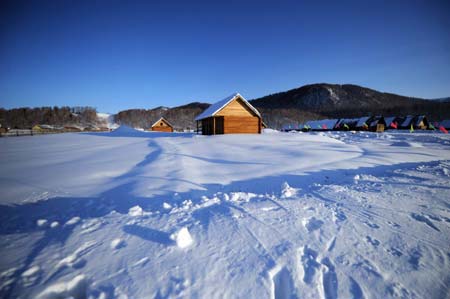 a view in the Kanasi scenic area, Xinjiang
The heart of the Taklimakan desert
Glaciers in the Pamir mountains
Altai Mountain
Unique culture
The culture and art of Uygur people is unique and distinctive. The music dance epic called The Twelve Mukam and local Uygur dancing are very well known.
Uygur dance"Pomegranate Girl"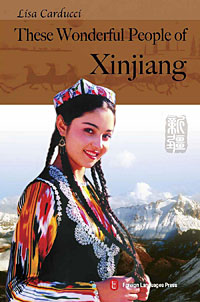 uygur kids
Xinjiang cuisine.....
The Cuisine of Xinjiang is the food of the Uyghurs (Uyghur Yemekliri), known for cooking fiery lamb kebabs and homemade noodles. As Uyghurs are Sunni Muslim Turks, the food is predominantly halal.
Xinjiang Kebab is as famous as the roast duck of Beijing. It is a popular snack nationwide -- found in the streets and bazaars throughout China, and a lot of people like it very much.
More entries: Crazy Xinjiang Facts (5), try them out....interesting phrases (1)
View all entries from AL s blog >