Lesson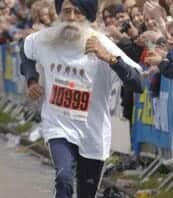 Fauja Singh is one of the world's oldest marathon runners. Born in India in 1911, he moved to the U.K. after his wife died in 1992. To combat the boredom of sitting at home, Fauja Singh decided to take up jogging – and eight years later ran his first marathon in London at the age of 89. Since then, he has run seven more marathons as well as countless half-marathons. He holds world records for the fastest times in his age group at 100m, 200m, 300m, 800m, 1500m, 1 mile, 3,000m and 5,000m.
Throughout his running career, Fauja Singh has raised money for various charities promoting Sikh culture, as well as a charity that provides medical care for premature babies. He said, "I think that it is a good thing for the oldest runner in the race to run for the youngest people in our world." Fauja Singh is one of the most inspiring athletes in the world, and in 2004 Adidas featured him in an advertising campaign called "Nothing is Impossible."
Fauja Singh is 180 percent fitter than an average man of his age, and doctors say that he can continue running as long as his cardiovascular system is able to support his training schedule of 7-10 miles per day.
What's the secret to Fauja Singh's great health? "I am very careful about different foods. My diet is simple," he says. Fauja Singh doesn't eat meat or fried foods, nor does he smoke or drink. His positive attitude and spirituality also help: ""I don't want negative thoughts crossing my mind. The first 20 miles are not difficult. As for the last six miles, I run while talking to God."
VOCABULARY
Combat = Fight against
Boredom = The noun for 'boring'
Jogging = Faster than walking, but slower than running
Countless = Too many to count
Charities = Organizations that help people
Premature babies = Babies that are born too early
Fitter = Healthier and more athletic
Cardiovascular system = Heart and circulatory system (veins and arteries)
SUPERLATIVES
Words like oldest, fastest, youngest, and most inspiring are called superlatives. Superlatives are used to compare 3 or more things.
Use superlatives to compare 3 or more things.
old - older - the oldest
big - bigger - the biggest
easy - easier - the easiest
beautiful - more beautiful - the most beautiful
good - better - best
bad - worse - worst
far - farther - the farthest
Examples:
My grandmother is the oldest person in my family.
Russia is the biggest country in the world.
This is the easiest test I've ever taken.
Donna is the most beautiful woman I've ever seen.
I like all sports, but I like soccer the best.
Picking up garbage was the worst job I've ever had.
Australia is the farthest I've ever traveled.
Be careful: Don't forget "the"!
My grandmother is oldest person in my family.

My grandmother is the oldest person in my family.
Superlatives are often used with the present perfect + ever:
This is the best sushi I've ever eaten.
What's the most expensive car you've ever driven?
The longest book I've ever read was 500 pages.
Jan is the friendliest person I've ever met.
Click here to take the Superlatives Quiz!
QUESTIONS FOR DISCUSSION:
Beginner:
- Who is the oldest person in your family? Describe him or her.
Intermediate:
- Fauja Singh is an inspiration to many people. Describe someone who inspires you. What do you admire about him or her?
- What advice would you give to someone who wants to live to be 100 years old? Give suggestions on the physical, mental/emotional, and spiritual levels.
Advanced
- With advances in medical technology, an increasing number of people are likely to live to be centenarians. Discuss the possible implications (positive and negative) of an aging global population.